This is a classic "you failed us" post. I'm so disappointed.
Recently a friend of mine typed that line, "Pixel 6 is trash", in chat. I asked "what do you mean"? And he talked about how slow it was, how the updates have been flawed and people are having trouble, and even a few other things I forgot now. And I feel the same way! The update issue didn't really matter to me but the ONE THING I care about most is quickly taking pictures. I double tap the power and half the time it doesn't work and I see the camera for a second and then it goes away and the phone is locked. And then of course the fingerprint sensor is trash so I can't get it unlocked and then by the time I get the camera going the moment is over.
Did I mention the fingerprint unlock is bad? It's so bad I just have the phone unlocked all the time at home otherwise I would throw this phone at the wall it's so frustrating. I'm considering just removing the fingerprints and just using a number every time.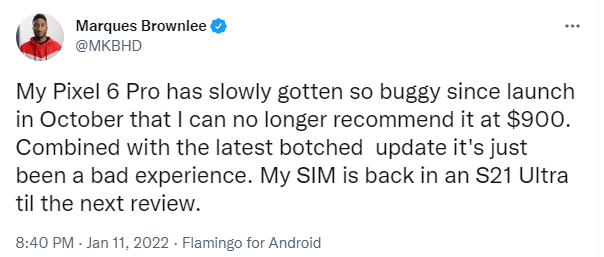 If only I could switch to the S21 Ultra. I sent my Pixel 3 XL to a friend in Africa so I can't switch back to that either.
Yeah, the Jan update is going to fix it all. I heard that before. Why do I do this to myself?
I like to tell my google home "find my phone" and then BOOM, my phone is ringing. Oh yeah, that's broken sometimes too!
That's it. Also I'm just a Google fanboy. This makes no logical sense.
Sheldon