For the last several years* Heatsync Labs has held an event called HAXMAS where card holding members keep the lab open for at least 48 hours straight. The idea here is that with the lab open you have time to MAKE the best Christmas gifts ever! Luis is the organizer of the event and takes on more than his share of hours at the lab and fills in any holes in the schedule. Generally I stay out of it on account of holiday season being busy. Between normal family stuff plus work stuff like trying to get this or that project either done or fixed and stable so that the team isn't working over the holiday there just isn't room for spending a weekend at the lab.
But this year was different! I asked my 9 year old daughter if she wanted to build LED Graham Cracker houses and spend the night at Heatsync and she said YES without even thinking about it! Normally I would have to try and convince her!
*Covid ruined every streak
TLDR Version
I ended up working on 3 projects!
Light up Luis's bike for the Bike Mesa event (WLED on a couple of ESP32 boards, 4 strands of 50 of my favorite LED lights, a Jackery, and a big Bluetooth speaker and BOOM!). Status: complete and a success!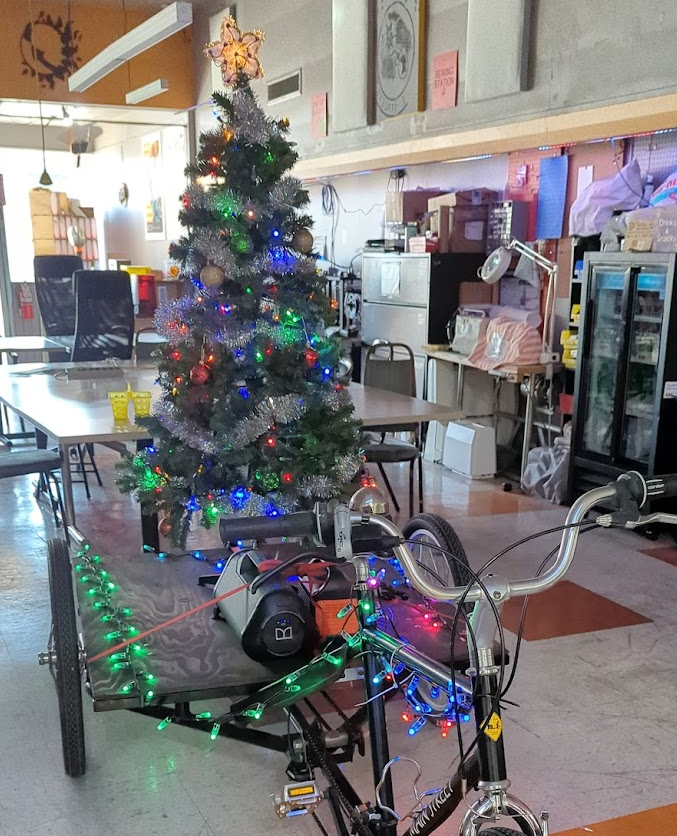 Replace the Arduino boards with ESP32 WLED for the LED strips in the Lab. Status: Need to get power injection working properly and needed more power. Plus, you can barely see the lights, maybe need to move them?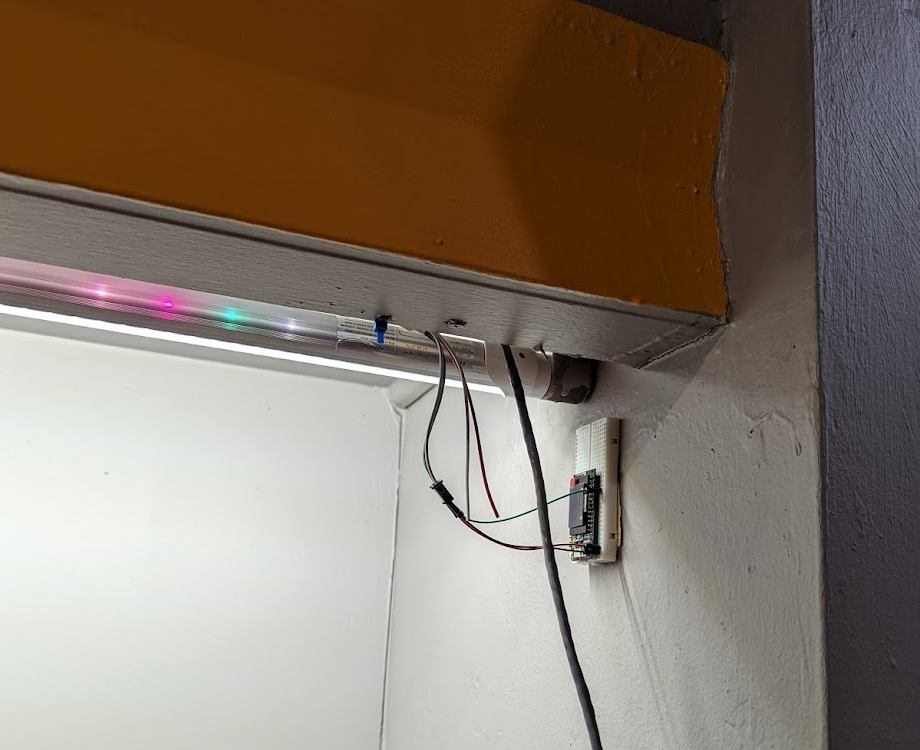 WLED controlled Graham Cracker house. Status: It works! But more decorations needed!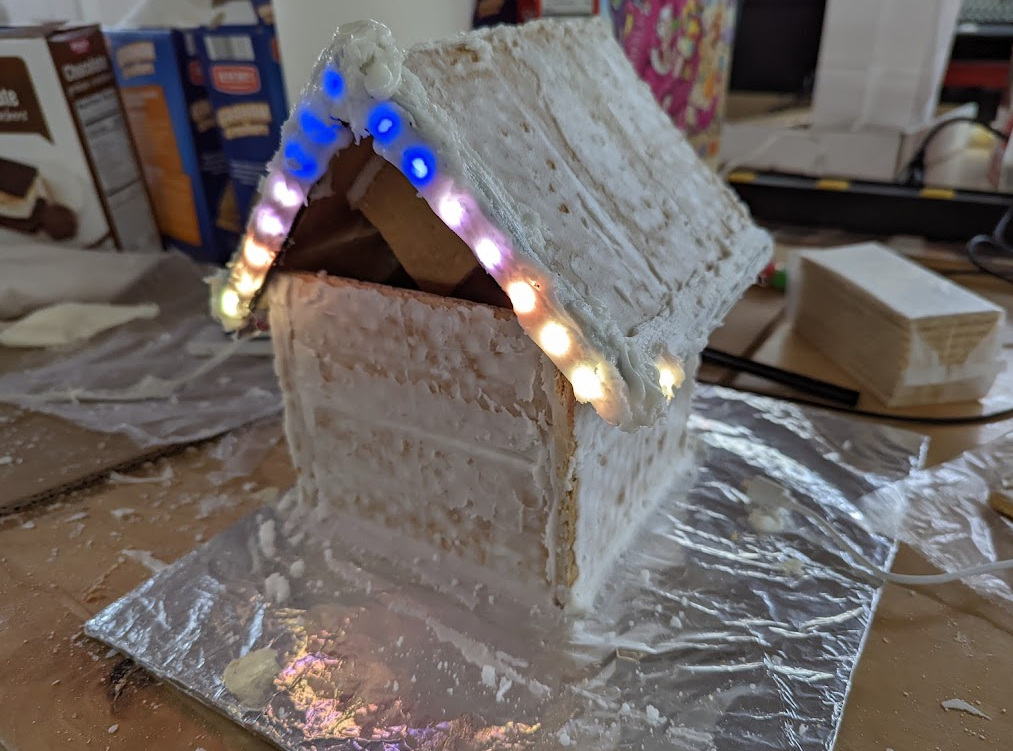 PLUS! While were were there we saw an amazing community come together to support makers. There were many tours of the space and we entertained several people with Milton's "mouse trap in a box" where you are invited to insert a quarter into a box and that would set off a mouse trap that would explode the box. Even when people knew it was coming they were surprised! They were also handing out laser cut wooden ornaments that could be decorated using paint or markers. How thoughtful! I wish we would have done more of that sort of thing.
Lighting up the Bike
On the FIRST FRIDAY OF HAXMAS I was planning on stopping by just to visit Luis and maybe work on some LED project. He told me about his plan with the bike via Twitter DM's and I told him I have the solution to all his problems! The only issue was that I was going to ride my bike over and OH YEAH, also I have Dexter. He came to pick us up and thank goodness because we took a ton of stuff. The Bluetooth boom box, the Jackery 300, several bins of LED lights, another bin with tools and another with esp32 boards and other parts.
Then off to his house to get the GIGANTIC bike and the Christmas tree.
Once we finally got the the lab it didn't take long to figure out what we wanted to do. We had to make sure the Jackery would last through the night (5+ hours) so we did some quick math based on the power consumption we saw on front of the Jackery. Even with 4 sets of 50 LED's, plus the ESP32s, the power consumption was such that the Jackery would last 24 hours. So we added the incandescent star to the tree as well as the LEDs and our calculations told us it would still last way more than the 5 hours we needed.
The best part was when we were on a test drive and I played "Boney M – Mary's boy child" on the way back to the lab and people were cheering. Here is it playing outside the lab!
ESP32 Controls for the existing light strips in the lab
Luis had an old Arduino board playing a "rainbow" but I thought it would be cool to put up a sign and URL and tell people they could control them from their phone on the Heatsync wifi. I replaced the boards but unfortunately there are a few issues:
The power injection that was there was not working. One of the power supplies was missing (which I knew about and brought a backup) but the other one was bad and was causing the lights to flicker. On the other side, the power injection is so far away that it won't power the board so I need to get power to the board and to do that I need a power extension cable.
You can't even see the LEDs! Even with the lights out they don't make much of an impression. For a future project I want to move them to a more visible area and maybe add some diffusers.
Status: Still needs work! But if you are on the wireless at Heatsync and are lucky, you can go to http://wled-east.local and/or http://wled-west.local and control the lights!
ESP32 enhanced LES Graham Cracker House
In the past we would participate in Eric's "LEG Graham Cracker House" event. This is a picture from 2019.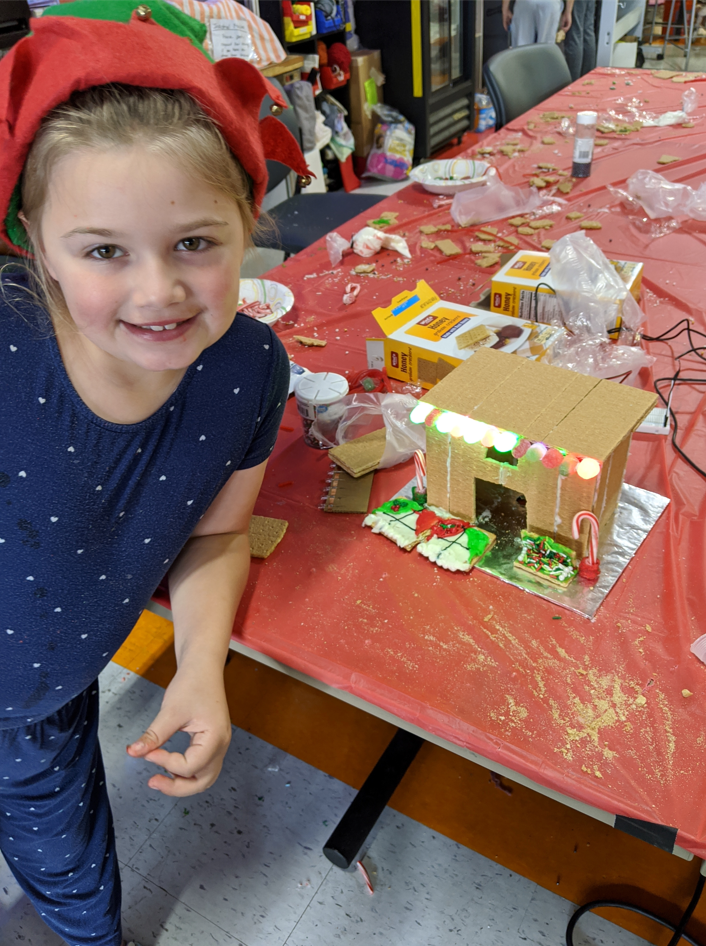 And one year we even ran our own LEG Graham Cracker event for free for the GDG community sponsored by Google. We knew how to build our own. And, well, Eric created instructions so that anyone can build one! But we wanted to do a bit more!
Eric was running it again this year but we held off registering because we figured we would give others a chance to sign up. Sure enough it was sold out. But Eric was generous enough to leave the supplies at the lab so that other people could build their own.
The nice thing about having that many hours is there is no rush. I could use the frosting to glue 3 crackers together and let it sit for 30 minutes, no problem. I was even able to make the roof freestanding and completely held together with nothing but foodstuffs (usually I have to cheat and use cardboard).
Here is the result!
Yes, it needs more decorations! And I had to stop and let it dry since the LES strips (Light Emitting Sugar TM) were still fragile. But generally it was a success!
The most difficult part was soldiering the strips together. For each section I cut the strip along the solder points but since I got the IP68 version, the plastic coating was difficult to remove. I used this "silicon sheathed wire" that was very flexible and I also used hot glue on the ends to keep them in place.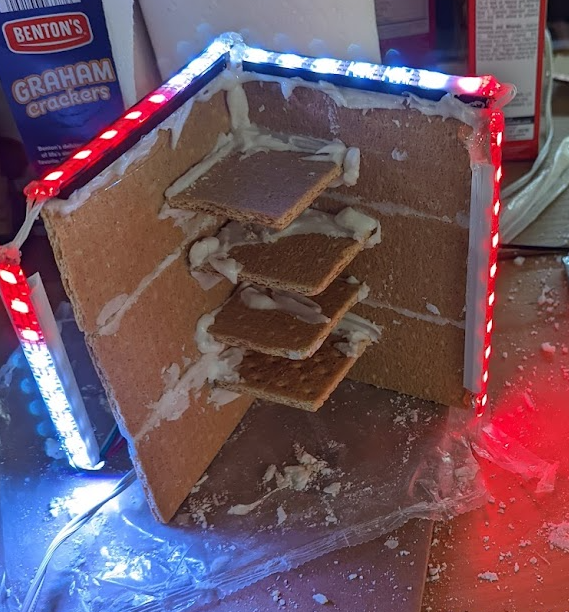 To keep the strip of LEDs lined up, I 3D printed some rails I made in TinkerCAD. This made them much easier to "sugar glue" them to the roof. The one with the triangle shape was for the roof "gutters" and the other parts were for the roof slopes that attached to the edge of the cracker.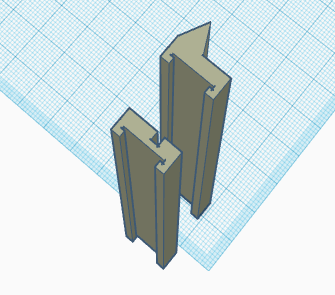 My assessment is that this all needs to be refined alot more before we can unleash it on the public and do a class. But I bet Eric already has ideas for how we can do this better so hopefully he reads this and we chat more!
Conclusion
The entire weekend was SO FUN. Even though Embrie and I were tired and slept past noon on Sunday we had a really good time.
Mesa was full of excitement and had an event going on right next door with several makers and food vendors and a big Christmas Tree! Before we got too serious about hour LES house we spent an hour or so out there talking to people and just walking around outside. It was nice for us to get the chance to spend that time together.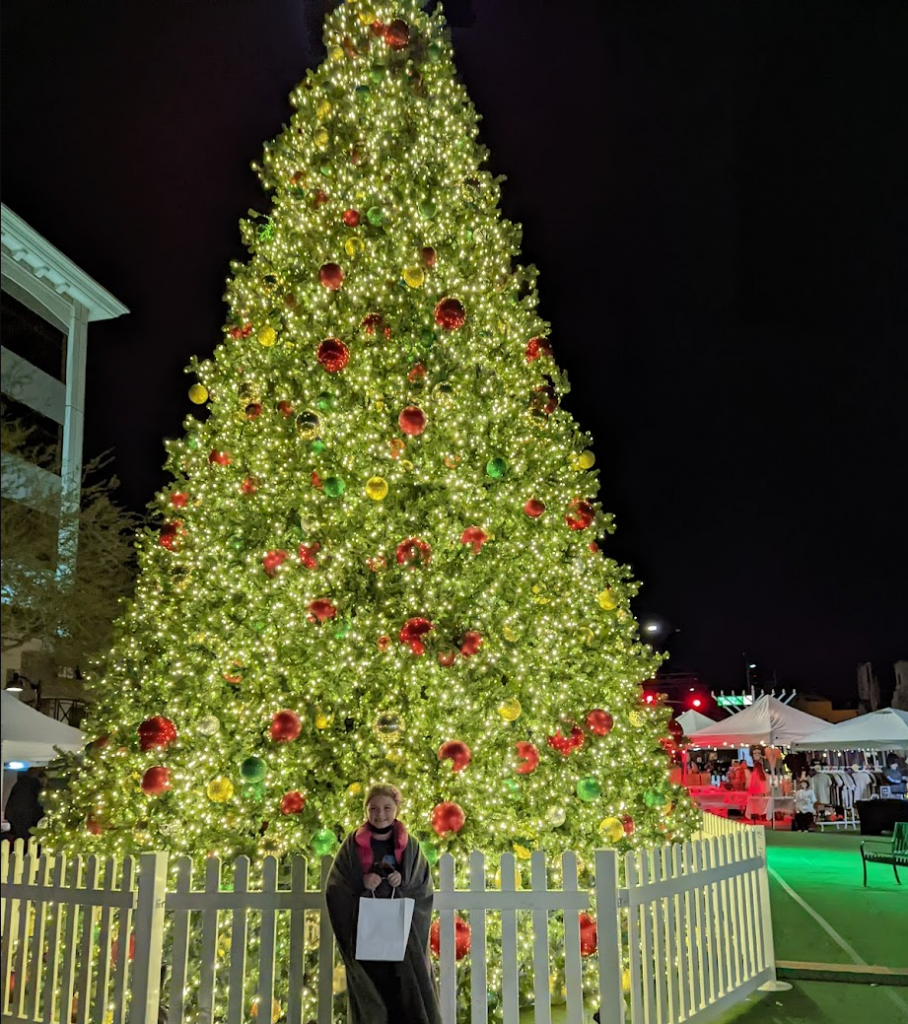 And she was such a trooper! She never complained, kept herself busy and even when her house was falling over and she had to rebuild she did it all without complaining. And at about 3:30 or 4am she quietly put the blanket over her chair and made a sort of "chair tent" and fell asleep. I took this at 3:57am and I don't even know how long she was like that. Merry HAXMAS!